Bio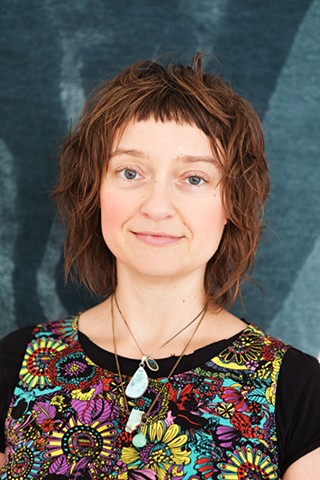 Angie Wilson uses yarn and light to draw on metaphors of weaving to illustrate phenomena of space and time. She explores matter and light, connecting the external universe and the worlds within ourselves, creating constellations of stars in various states of explosion and formation, death and birth. Her work investigates the parallels between stars and our cells as well as the metaphors of string and fabric to describe the universe.
Angie Wilson received her MFA from San Francisco State University in 2011 and BA in Russian from Reed College in 2003. Her work has been exhibited at Headlands Center for the Arts, San Francisco Arts Commission Gallery, de Young Museum, di Rosa Center for Contemporary Art, Oakland Museum of California, San Jose Museum of Quilts and Textiles, Kala Art Institute, Cult/Aimee Friberg Exhibitions, and Root Division. She has been awarded fellowships and residencies at the de Young Museum, Headlands Center for the Arts, Djerassi Resident Artists Program, and the National Institute of Art and Disabilities.
Her work is featured in Queer Threads (ed John Chaich, AMMO Books, 2017) and Fray (by Julia Bryan-Wilson, University of Chicago Press, 2017).
Wilson lives and works in Oakland, CA.